Think of a world without women. A world without our mothers, grandmothers, daughters, sisters, wives, aunts, girlfriends. Unthinkable, isn't it? It'll be a sad, bleak, incomplete world if that ever happens. There's a reason why the yin and yang are there for each other.
That's why every March 8, the world gladly celebrates International Women's Day, a day meant to pay tribute to all the wonderful women everywhere, especially the important women in our lives.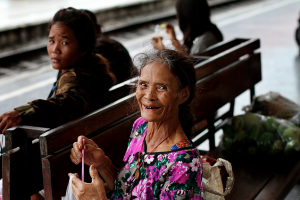 This year's theme is Equality for Women Is Progress for All. After all, it is only when we look beyond our gender differences and instead see each other for our true potentials, talents and gifts that we can move forward.
Women in Power/ Women Empowered
Indeed a lot has already changed since the feminist movement and women's liberation in the early 19th century. Women got to vote, they wore pants, became breadwinners alongside their husbands, proved themselves valuable in the workplace, and demanded they be given the same rights as their male counterparts. It was a long, arduous journey, but eventually everything worked out for the best.
Today women finally enjoy those rights they've fought for. Inevitably, there are still some obvious imbalances taking place in less-progressive parts of the world, there are still a lot of work to accomplish, but in general the world has become a much better place for them than in the previous decades.
As proof, some of the world's most powerful personalities are women: Hilary Clinton, Oprah Winfrey, Angela Merkel, Christine Lagarde, Michelle Obama, Dianne Sawyer, Margaret Thatcher—the list is practically endless.
Women in Thailand
Thailand in particular has been a favourable place for women's liberation despite its so-called illiberal democracy. Thai women were in fact the very first women in Asia given the right to vote. Today, women's voice continue to resound regarding various pressing issues in their society such as employment, healthcare, reproductive rights, and the most important of all, education.
According to a 2012 news report by The Star, Thai women are on the rise. Girls are doing better in school, and more women than men are graduating from college, which means they'll eventually be exerting their influences in their respective professions. More Thai women are also holding executive positions in various companies, signifying a crucial shift in attitudes towards women in the workplace.
Thai women reign in politics as well. Her Majesty Queen Sirikit is Thailand's second Regent Queen while Her Royal Highness Crown Princess Maha Chakri Sirindhorn is Thailand's first Crown Princess. In 2011, Thailand elected its very first female Prime Minister Yingluck Shinawatra who has diligently tasked herself in addressing the various issues confronting her country today: prostitution, human trafficking, corruption, drug use, abuse and teen pregnancy. Needless to say, that's a lot of problem for one woman to handle, but trust a woman's intuition, calm, grace, and sensibility to tackle all that.
In sports, Thai women athletes have also been recognized by the world, especially in the weightlifting competition in the Olympics. In the recently held Winter Olympics in Sochi, Russia, Thailand is proud to have had its very own former violinist Vanessa-Mae qualify in the alpine skiing event.
The point is, one Thai woman's personal achievement adds to the triumph of the women's liberation and Thai society in general.
The road to freedom that our grandmothers' grandmothers have had to trek has been difficult. As we celebrate International Women's Day, we are reminded to be thankful for all those brave, brainy, and beautiful women who have made all of these possible.
As for the women of the Urban Thai family we would like to say a special thanks to our waitresses Claire and Monica, our Ayi : Song, Ge, Wu, Qiu and of course our beloved mummy !!