What's summer encapsulated in a bite?
Is it the spicy tickle of chilies in your mouth, or the crunch of fresh salad greens, or the simple satisfaction of a glass of ice-cold beer?  No doubt the taste of summer can mean a lot of things for each one of us, which makes it a tricky flavor/mood to capture in a dish.
Not unless we do something about it. 
Here at Urban Thai, we want you to have a taste of summer all year round.  Our beloved Chef Mummy has been busy developing new dishes for our menu these past few months.  The result is a new collection of dishes infused with the goodness of summer while still retaining the authentic Thai cuisine that's the signature of Urban Thai.
Fresh Spring Rolls
Spring Rolls are classic mainstays in Thai cuisine already, but we do them better by using only the freshest ingredients each day—crunchy cucumbers, juicy carrots, and streaky pork curried and grilled to perfection, all rolled in green lettuce leaves and served with our special sauce.  The result is a light, delicious, and healthy wrap that brings summer with every bite.  (Limited servings each day only, so don't miss it!)      
Spicy Salmon Salad
Excite your taste buds with our Spicy Salmon Salad guaranteed to invigorate you like a fresh day in summertime.  We use only the freshest and choicest salmon (cooked or raw, according to your wishes), some ground chilies, and a sprinkling of cool mint leaves to refresh your palette.  It's a healthy dish meant to fulfill your Thai cuisine cravings anytime.
Thai-style Tuna Pizza
Put a new twist on your old favorite with our Thai-style Tuna Pizza.  Our pizza-style omelet is made from rice flour (for that authentic Asian flavor), eggs, rich tuna paste, and chopped basil leaves.  The result is a different kind of pizza, a happy mix of mild and bold flavors—which goes well with a glass of Singha Draft beer and, of course, is perfect for sharing with friends.
Thai-style Roasted House Chicken
For one memorable feast, savor our Roasted House Chicken.  Marinated in a carefully chosen blend of herbs and spices, our chicken is expertly roasted until just about tender and still juicy on the inside while crisply seared on the outside.  This is one sumptuous dish made all the more special because it's Thai-style.
Assorted Seafood Soup
Nothing says summer like a sip from a bowl of steaming soup.  That's Urban Thai's Assorted Seafood Soup, a luscious mix of goodness from the sea and choicest herbs, all served in a delightful soup base.  Our soup is not just filling, it's heart-warming as well!
Chicken Wings with Sticky Rice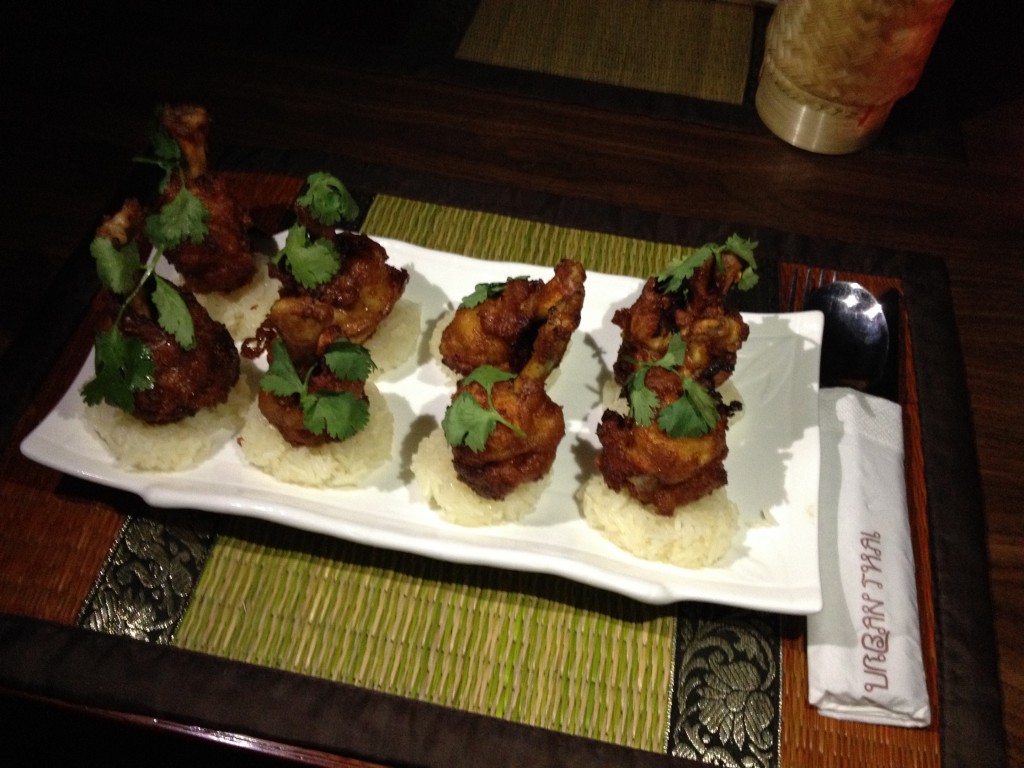 Marinated and then fried to crispy perfection, our chicken wings are served with a heaping of sticky rice for a nice contrast of textures and flavors worth indulging in anytime.  It's a simple dish at heart, but made special by Urban Thai.
Of course, a refreshing glass of fresh coconut juice or ice-cold Singha Draft beer nicely complements each meal, instantly taking you to the beach on a perfect summer day. Of course to finish what more than a delicious coconut pudding!
We hope you enjoy Urban Thai's new dishes as much as we enjoyed preparing them for you.  Come visit us for a relaxed and homey dining experience with your family and loved ones!